792-XSlide LED – Just a slide away from the light
Our new professional dust and waterproof extruded luminaire, the nicely designed 792-XSlide LED is available from May, 2020!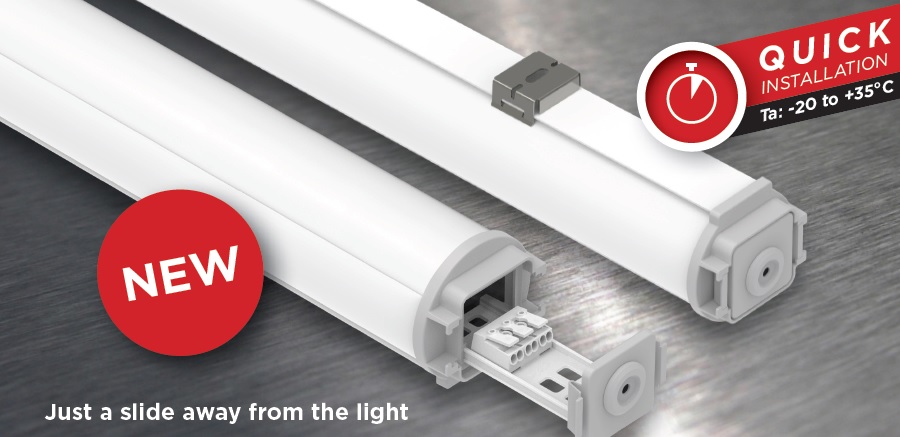 MAIN BENEFITS at a glance:
Glued end caps with pull-out (sliding) tray for easy connection
Comfortable and quick installation without disassembling the luminaire
The mounting brackets can be positioned freely on the housing
Economical and cost-efficient
Slender design and clean impression (no glare, no dots of the single LED´s)
Extremely high light efficiency (up to 90% light transmissivity)
Perfect and well-balanced light distribution (no shadows)
Professional (industrial) quality at an affordable price
SPECIFICATIONS:
Housing: Made of Polycarbonate (PC) by co-extrusion. The housing is made in light grey (RAL7035) colour. The diffusing (upper) part is opalised. Thanks to the used raw material the whole fitting shows very high mechanical strength and high heat and shock resistance (IK08).
Diffuser: The co-extruded opal diffuser offers you: extremely high light transmissivity (up to 90%) unique on the market; homogenous light dispersing (no shadows), elimination of the dazzling effect (no glare); unique appearance and clean impression (no clips, no dots of the single LED´s)
LED System: Currently available with LUMNIUM HV or with Osram Basic Linear G3 LED System.
Installation: The glued end caps are locked up hermetically. After opening it the connector tray is accessible. The pull-out (sliding) tray accelerates the electrical connection easily without disassembling the luminaire that makes the installation easy and quick.
Dimensions: available in 622 mm, 1218 mm, 1492 mm lengths
Power and Luminous flux: 23W or 29W or 36W or 47W; up to 6,900 luminous flux
Warranty: available with 3 or 5 years warranty, depending on the LED System.
For further details on 792-XSlide LED and for price offer, please contact your IBV contacts hivatkozással a Contact page contact form-ra and you can download the model's catalogue pages from our website here: Catalogue – 792-XSlide LED
hivatkozással a termék pdf katalógus lapjára 
If you are interested in the really quick and easy installation of 792-XSlide LED, check out this video: https://www.youtube.com/watch?v=b8qjJyZvTNs